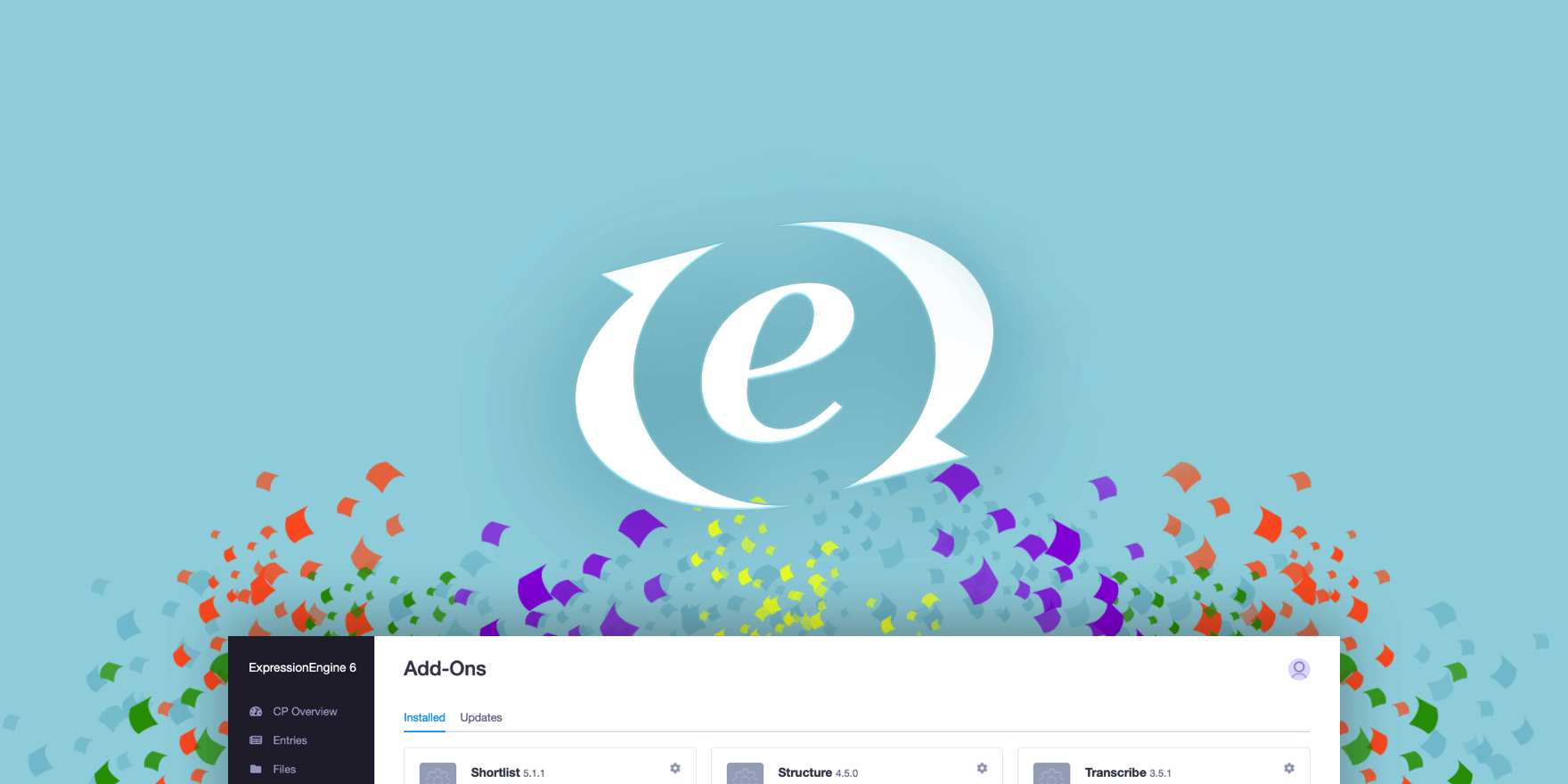 We are happy to share that ExpressionEngine (EE) has released its version six! We are a platinum partner of ExpressionEngine, and as such, we are very excited to implement the new updates.
Did you know that both President Obama and President Trump used ExpressionEngine for their presidential campaign websites? If you want a site as secure as the POTUS, you have come to the right place. We have used the ExpressionEngine platform to develop many secure government and private sites.
Packet Tide/EE Harbor recently acquired ExpressionEngine. Their team has worked tirelessly behind the scenes to bring us this new update, and they are incredibly proud and excited to share the update. In their announcement, they said,
"ExpressionEngine 6 from the start has been all about elevating the user experience. From the new interface, refined interactions, functionality, and new feature additions. It's all designed to give you the best user experience.
To say version 6 was a large undertaking would be an understatement. Beyond the new user experience, ExpressionEngine 6 is also setting the stage for what's to come."
Read on to learn about the new features and all of the things EE is bringing to the table. Our experts are happy to have played a role in updates, and we are excited for 2021!
ExpressionEngine Six Features
More User-Friendly
EE has historically been extraordinarily secure. But now, you can expect the sites to be even safer and more comfortable to navigate. The entire control panel interface has been redesigned from the ground up. However, without changing the foundational ways content is added or edited, everything still feels very familiar yet much easier to use.
The new 'Jump Menu' makes it incredibly easy to find what you're looking for within the Control Panel, so even if you're not sure where something is in the menu, you can still find it with ease.
Upgrading
It still uses the same foundational concepts, so upgrading older EE versions is not only possible but highly recommended. As with any software, it's essential to keep your website up to date, not just to take advantage of the new features and better usability, but the more critical reason is for the best security possible.
In many cases, ExpressionEngine websites are ready to upgrade already. Many existing add-ons are already EE6 compatible and ready to upgrade at the same time as the CMS itself. Some add-ons may still be waiting to get their EE6 compatibility updates from their respected developers, but for the most part, we anticipate all of these to be completed by the summer at the latest.
Long-Term Support
Long-term support is a unique feature in which ExpressionEngine has promised not to release any breaking changes for the next five years. This is huge because it means upgrading to future versions (once upgraded to EE6) should be very simple, so reduce development costs for keeping your site up to date and the most secure.
Member Roles
The membership functionality in ExpressionEngine is getting a nice upgrade. Membership accounts, whether users have admin privileges in the CMS or not, are now managed via a series of "roles" where individual users can be assigned multiple roles.
Each one gives additive permissions, so managing roles and permissions becomes much more granular. More membership upgrades are on the way, too, so we're excited to see the new features as they're rolled out in the coming months.
Color Picker Field Type
This color selection tool is a long-awaited upgrade that gives content editors more creative flexibility. With this new Field type, certain types of content can be set up to offer a color selection from editors to either pick any color or from pre-defined swatches. Of course, this would only be appropriate in certain places, but this is just yet another way EE6 adds flexibility for creating content.
New Member Template Tags
The membership functionality is probably where the most significant foundational changes can be found in this update. For sites with members - not just CMS users, but actual member accounts where users log in to access certain things - the way member details and user-specific content is accessed has been dramatically changed.
It's now possible to include member-specific information in regular templates, making it easier to mix member-data and regular site content seamlessly. More updates to the membership functionality have been promised, so we're excited to see all the new features.
Jump Menu
This new addition to EE 6 will help CMS users quickly and easily navigate where they need to go within the CMS control panel. There is a search bar in the top right-hand corner that serves as the site-wide search operation and automatically shows shortcut links that update instantly as you type, so finding what you're looking for is a breeze.
Redesigned Control Panel
At last, the control panel takes your experience into the future! It features a better user experience, dark mode, new navigation, no more max-width, resizes live preview, new flyout subnav, collapsable sidebar, and offers a navigationless option via the new jump menu.
We think these new features have what it takes to compete online in 2021! We could not be more proud to be the first EE Platinum partner. As such, we've been working with Packet Tide and their team on this update and have influenced features included in this version update and ones on the development roadmap.
Consumer51 and ExpressionEngine 6
Here at Consumer51, our senior web developer, Justin Alei, has been looking forward to this update for months! He said, "Knowing the quality EE add-ons Packet Tide offered before they acquired EE, we couldn't wait to see what they had in store for their first major release of the platform as a whole. It's been a long time coming, but worth the wait in every way."
Thanks for reading our blog. If you need a team to upgrade your ExpressionEngine site to EE6, or if you'd like to explore your options with a new ExpressionEngine site, we can help. As leaders in the EE field, we can answer all of your questions and concerns. ExpressionEngine is one of the many platforms we use to build websites, including WordPress, Shopify, and Magento.