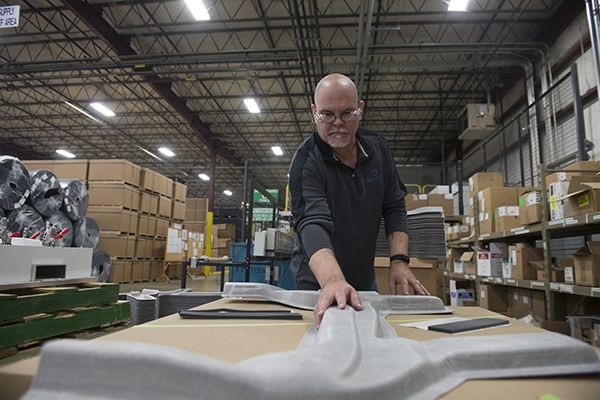 FORT WAYNE, Ind. - Dec. 13, 2018 - Consumer51, an international consumer-experience company with business operations in Pennsylvania, New Mexico and Indiana, announced the launch of a new mobile-friendly website for Oji InterTech of North Manchester, IN.
The project was commissioned earlier in the year and the Consumer51 team worked with Oji Intertech to design a custom website to help users navigate through the products manufactured by the company and get more information on the company's comprehensive manufacturing capabilities. The new website will also feature a corporate video produced by Consumer51. Renowned photographer Steve Vonderman worked on the project with Consumer51's creative team to capture images from the company's 80,000 sq. ft. facility.
Rick Sereno, President of Oji InterTech, Inc., expressed his excitement about the lunch of the new website, stating, "The new website updates and better represents our products, capabilities, and culture to our customers, community, and prospective employees".

The new website design is fully responsive and boasts a custom Oji Intertech theme, which reflecting the principles and work ethic the company was built on, and is designed with the user's needs in mind. Arijit Banerjee, CEO of Consumer51, said, "We wanted to tell the story of Oji Intertech in an authentic way and capture the work culture of the company that makes it one of the region's largest employer. In meeting people at the facility and working collaboratively with the organization's leadership team, I think we have created a website that allows users to truly get a sense of this company's vision, work, and quality."

The new website will be hosted on Consumer51's cloud platform.

About Oji Intertech: Oji Intertech, Inc. serves the automotive/transportation and industrial packaging industries, with specialization in compression molding, diecutting, assembly and extrusion coating. The company is a whollyowned subsidiary of Oji Interpack, Ltd. (http://www.ojiintertech.com/ojiinterpack.php), Japan. Oji Intertech, Inc. took roots in North Manchester in 1990 and has since expanded its operations to accommodate a 80,000 sq. ft. manufacturing facility and steady employment to over 100 associates.

About Consumer51:Consumer51 LLC is a privately held consumer-experience company, providing marketing and technology solutions for today's connected world. The company provides a wide range of services including web design, web development, web hosting, domain registration, email management, user experience design, mobile application development, brand identity design, inbound marketing, creative services and consulting to clients ranging from startups to Fortune 50 brands. For more information about Consumer51, visit http://www.consumer51.com.