Santa Fe, NM - June 26, 2020: Consumer51, an international consumer-experience company with business operations in Pennsylvania, New Mexico, and Indiana, launched the new website for First Crop™, a public benefit company dedicated to improving the health and wellness of people and planet by harnessing the regenerative power of hemp.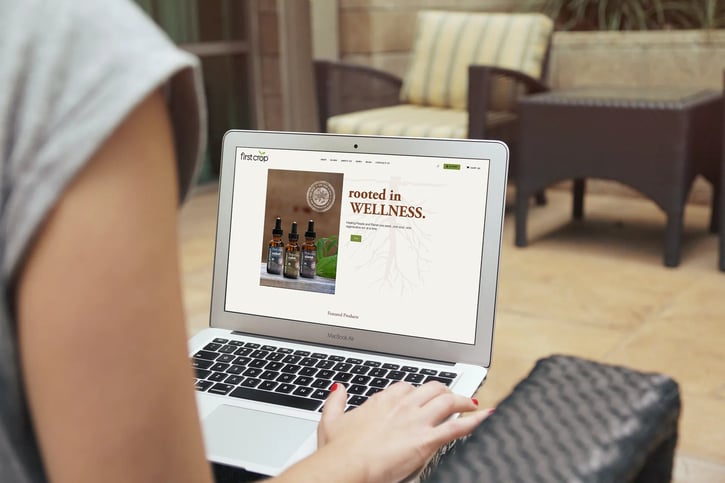 First Crop partners with American farmers to ensure only the highest-quality organically grown hemp is used to make its USDA certified organic CBD health and wellness products. From seed and site selection to sharing best practices for planting, growing and harvesting their hemp crop, First Crop nurtures its relationships with farmers every step of the way to ensure cultivation of a successful crop. At harvest, the farmers' hemp crop is purchased and processed at the First Crop CBD oil extraction facility located in the San Luis Valley of Colorado to produce high-quality CBD tinctures, CBD capsules, and wholesale full-spectrum CBD oil.
The new First Crop website, built on the WordPress Woo Commerce platform was custom designed by First Crop in collaboration with Consumer51's user-experience team. The new website gives First Crop e-commerce capabilities to reach consumers around the world. First Crop has experienced immediate success with the introduction of its new products and has enjoyed rapid growth in online sales since day one following the launch of the website. First Crop and Consumer51 are also working together to manage the company's digital marketing.
David Weir, Co-Founder & CEO of First Crop, shared his thoughts on the new website, saying, "We believe the cultivation of industrial hemp by small and midsized farms can be a key catalyst to economic and environmental renewal. The Consumer51 team helped us bring our vision to life and make our hemp products more available to consumers through this website. As a company, we think differently about the world and the solutions and we look forward to continuing to build a partnership of immense value."
Ari Banerjee, CEO of Consumer51 said, "We are proud to be associated with First Crop as the company's web development and digital marketing partner. We have deep respect for their work, which brings new thinking around regenerative solutions for the betterment of humanity. Consumer51 is a team of disruptors, tracing our DNA to a time when there were only about 1300 websites in the world, twenty-five years ago. Our goal is to take First Crop's story to as many consumers around the world as we possibly can through good content marketing, relevant advertising, searchability, and accessibility solutions."
The 2018 farm bill reclassified industrial hemp as a commodity crop and legalized it, opening up new possibilities for the cultivation of hemp and the commercialization of hemp products.
About First Crop
First Crop is a public benefit company dedicated to improving the health and wellness of people and the planet through the regenerative power of hemp. Based in Santa Fe, New Mexico, First Crop was founded as a public benefit corporation by an experienced team of entrepreneurs with a vision to create a lasting legacy that strengthens local communities and improves the health of the planet for future generations via hemp and CBD products. The company's collective work is inspired by the hemp legalization advocacy efforts of co-founder Michael "Mr. Hemp" Bowman, founding chair of the National Hemp Association and co-author of the 2014 Farm Bill. To learn more about First Crop, visit www.FirstCrop.com, or check it out on Facebook, Twitter, and Instagram.
About Consumer51
Consumer51 LLC is a privately held consumer-experience company, providing marketing and technology solutions for today's connected world. The company provides a wide range of services including web design, web development, web hosting, domain registration, email management, user experience design, mobile application development, brand identity design, inbound marketing, creative services and consulting to clients ranging from startups to Fortune 50 brands.
For more information about Consumer51, visit http://www.consumer51.com.