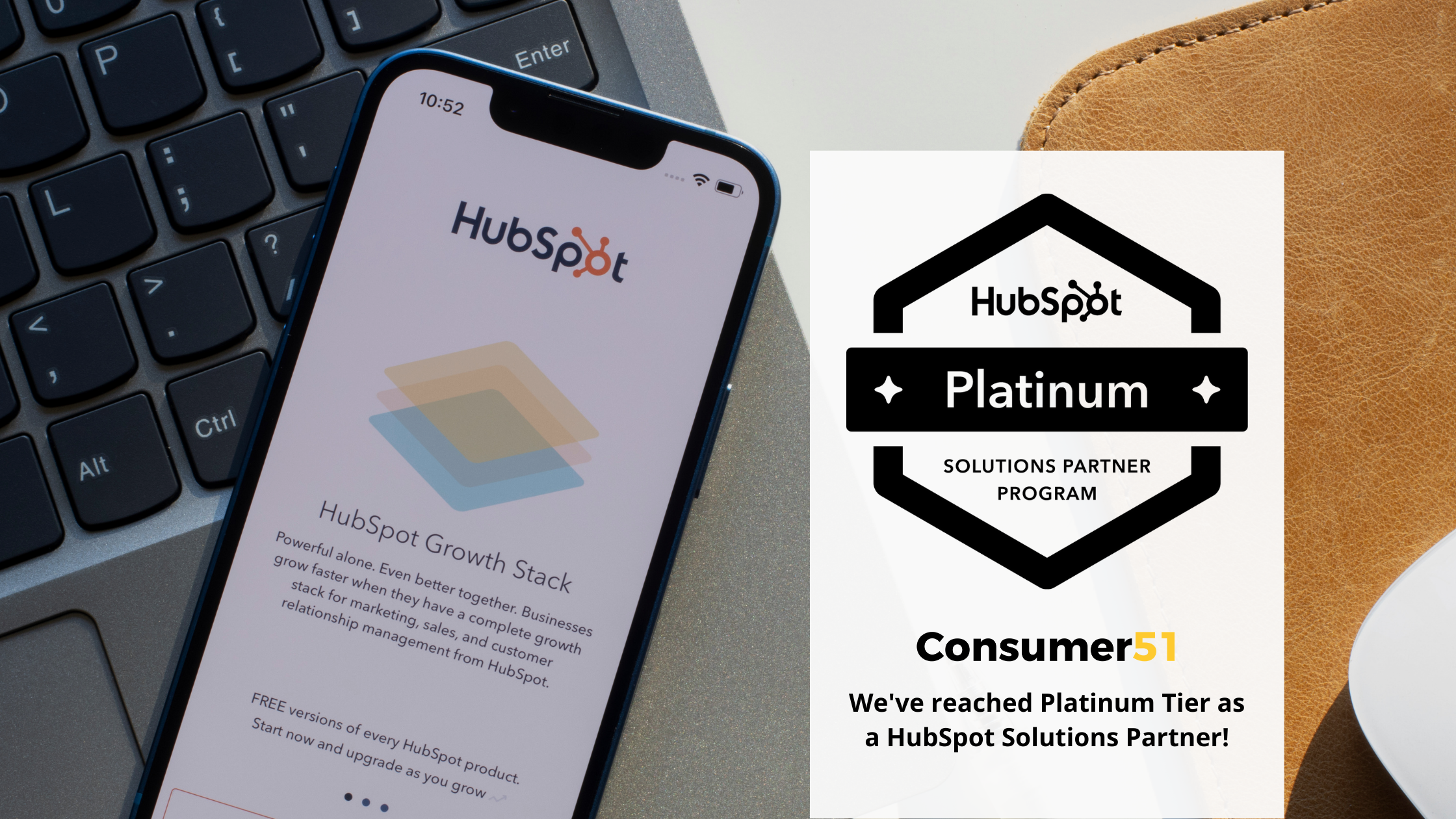 KING OF PRUSSIA, PA: Consumer51, an international consumer-experience marketing and web development company headquartered in Pennsylvania, announced that it has reached the platinum tier of HubSpot's Solutions Partner Program. HubSpot, a leading CRM platform for scaling companies, works hand-in-hand with partner experts like Consumer51 to grow their businesses through inbound software, services, and support.
Out of more than 3,000 HubSpot agencies across the globe, the top seven percent become certified Platinum. To become a HubSpot Platinum Partner, agencies have to manage around 18 - 40 client accounts. HubSpot also considers other metrics such as overall inbound marketing success, lead generation and revenue, and new client acquisition and retention.
"Platinum status is something we've been working towards, and we are excited to celebrate this achievement as a team. Since the beginning, HubSpot has been a major contributor to our growth strategy. Our clients have benefitted greatly from the HubSpot platform," said Arijit Banerjee, CEO of Consumer51.
Consumer51 has grown its business by incorporating HubSpot inbound strategies to attract, engage, and delight customers. Using HubSpot, Consumer51 launched a statewide employment initiative with the Department of Workforce Solutions and the Higher Education Department of New Mexico and helped an international SaaS company achieve US market penetration with targeted outreach.
"It's been wonderful working with Consumer51 to help implement and manage HubSpot's software for their clients. With the guidance of a partner like Consumer 51, a business can truly leverage the power of HubSpot to grow! I really value our partnership and feel lucky to be working with them," said Caleb King, Channel Account Manager at HubSpot.
Consumer51 celebrates the diversity of its HubSpot clients, including government entities, e-commerce brands, and startups. In addition, Consumer51 helps clients ranging in HubSpot plan size from Starter to Enterprise.
About Consumer51
Consumer51 LLC is a global consumer-experience company providing marketing and technology solutions for today's connected world. The company offers a wide range of services, including web design, web development, web hosting, domain registration, email management, user experience design, mobile application development, brand identity design, inbound marketing, creative services, and consulting to clients ranging from startups to Fortune 50 brands.