UX Marketing Company Awarded For Outstanding Work
This year's Addy Awards recognized Consumer51 for projects that have made an impact across the state.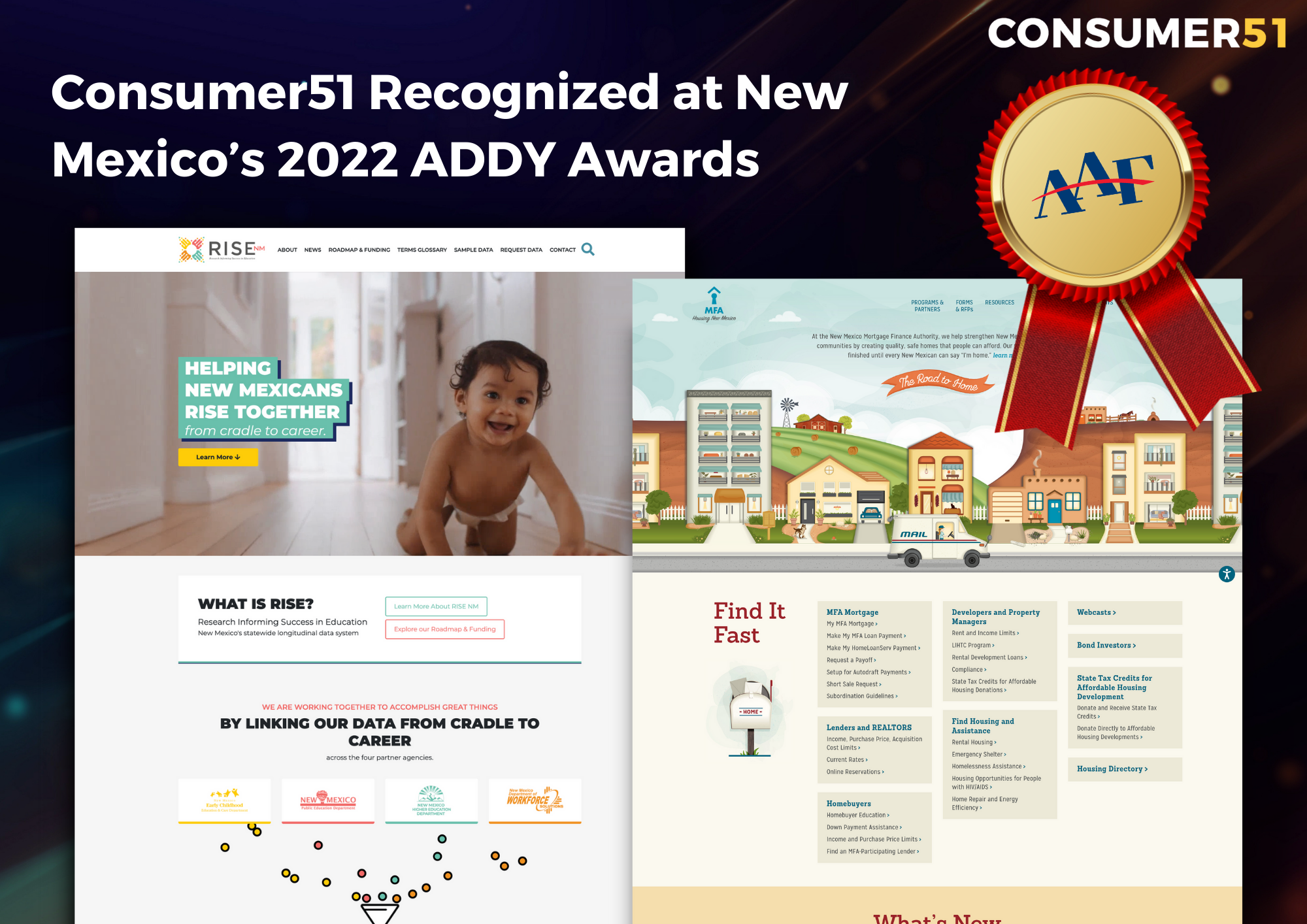 Albuquerque, NM – Consumer51, an international consumer-experience marketing and web development company headquartered in Pennsylvania, was recognized for its work in the website and digital experience domain. Consumer51 won two Silver awards for excellence at the annual ADDY Awards organized by the American Advertising Federation in Albuquerque, New Mexico.
A website Consumer51, in partnership with Ripe Inc., designed for the New Mexico Mortgage Finance Authority (MFA), won a Silver ADDY Award for "Online/Interactive Consumer Website." MFA helps strengthen New Mexico families and communities by providing financing to make quality homes affordable.
Consumer51 CEO, Arijit Banerjee, said, "MFA wants every New Mexican to be able to say, 'I'm home.' It was a privilege to help this mission by bringing together all MFA's programs and services into one easy-to-navigate site."
The second Silver ADDY Award went to their work on a New Mexico website, Rise NM. RISE NM is New Mexico's Longitudinal Data System (NMLDS) Project and data platform. They collect data that works to transform education and workforce data into actionable insights for all New Mexicans. On this project, Consumer51 had the opportunity to work with The New Mexico Early Childhood Education & Care Department (ECECD), Public Education Department (PED), New Mexico Higher Education Department (HED), and Department of Workforce Solutions (DWS).
"RISE NM will track students from birth to the end of life by connecting the databases of multiple state agencies," noted Elan Colello, Consumer 51's UX Design Manager. "These datasets will provide new insights for policymakers and constituents to better prepare and drive sustainable educational decisions and emerging workforce needs. The Consumer51 team was honored to work on this groundbreaking project," concluded Colello.
About the ADDYs
The American Advertising Awards is the advertising industry's largest and most representative competition, attracting nearly 35,000 entries every year in local AAF competitions.
About Consumer51
Consumer51 LLC is a global consumer-experience company providing marketing and technology solutions for today's connected world. The company provides a wide range of services, including web design, web development, web hosting, domain registration, email management, user experience design, mobile application development, brand identity design, inbound marketing, creative services, and consulting to clients ranging from startups to Fortune 50 brands.
Press Contact
Justin Butler - Director of Strategic Development
+1 505.386.0023