Consumer51, an international consumer-experience company with business operations in Pennsylvania, New Mexico and Indiana, announced being the recipient of three Communicator Awards for their work with Oji Intertech.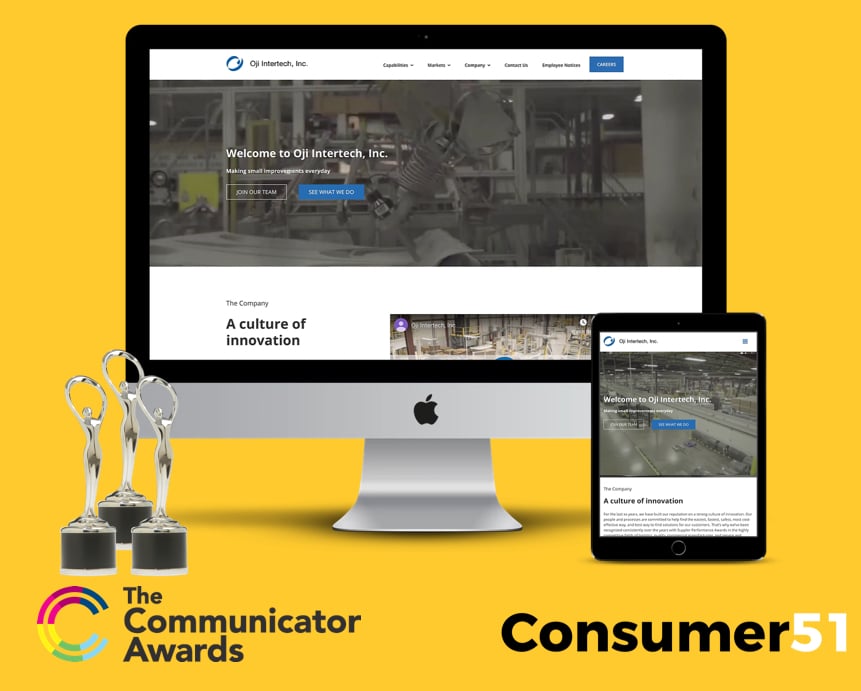 The annual awards, celebrating 25 years this season, is sanctioned by the Academy of Interactive & Visual Arts, an invitation-only group consisting of top-tier professionals from acclaimed media, communications, advertising, creative and marketing firms. One of the largest shows in the creative industry, it receives over 6000 entries world-wide.
Consumer51 was recognized in the distinctive category for website design in the general manufacturing category, visual appeal to improve functionality, and use of images.
"Oji Intertech is known for its culture of excellence, safety, and innovation," said Ari Banerjee, Chief Executive Officer of Consumer51. "We wanted to capture everything that goes into manufacturing the high-quality products that the company produces and supplies to companies around the country. We believe the new website tells the story in an accurate and engaging way, and we're proud that the work we did with our client Oji Intertech received these awards. We're very grateful for the opportunity to produce such award-winning work and showcase the manufacturing power for a company that operates in the same Indiana community as we do."
Oji Intertech, Inc. serves the automotive/transportation and industrial packaging industries, with specialization in compression molding, diecutting, assembly and extrusion coating. Consumer51 designed a custom website that boasts a custom Oji Intertech theme and is fully responsive. World-renowned photographer Steve Vonderman was engaged to capture images of the facility.
About Oji Intertech: The company is a wholly owned subsidiary of Oji Interpack, Ltd. (http://www.ojiintertech.com), Japan. Oji Intertech, Inc. took roots in North Manchester in 1990 and has since expanded its operations to accommodate a 80,000 sq. ft. manufacturing facility and steady employment to over 100 associates.
About Consumer51: Consumer51 LLC is a privately held consumer-experience company, providing marketing and technology solutions for today's connected world. The company provides a wide range of services including web design, web development, web hosting, domain registration, email management, user experience design, mobile application development, brand identity design, inbound marketing, creative services and consulting to clients ranging from startups to Fortune 50 brands. For more information about Consumer51, visit http://www.consumer51.com.