King of Prussia, PA - May 20, 2019: Consumer51, an international consumer-experience company with business operations in Pennsylvania, New Mexico and Indiana, announced that the company won five Communicator Awards for its work with Knox Fertilizer Company.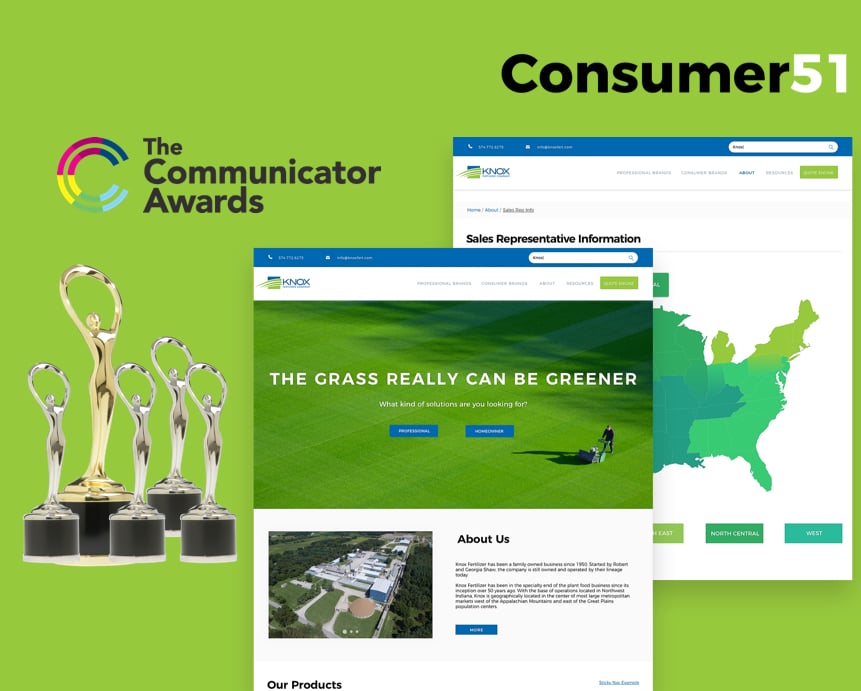 The annual awards, celebrating 25 years this season, is sanctioned by the Academy of Interactive & Visual Arts, an invitation-only group consisting of top-tier professionals from acclaimed media, communications, advertising, creative and marketing firms. One of the largest shows in the creative industry, it receives over 6000 entries world-wide.
Consumer51 won an award of excellence for website redesign for Knox Fertilizer Company, and four awards of distinction for websites in the general manufacturing category, structure and navigation, user experience, and user interface.
Ari Banerjee, CEO of Consumer51, said about the awards, "We invested several months on this project, working closely with the internal team at Knox. As one of the leading fertilizer companies in the world, Knox has a large brand portfolio for multiple market segments. Their products leverage patented technology and cutting-edge research. For us to tell the story effectively through the website, we had to immerse ourselves in their processes and organize all the information in a way that would be easy to consume online. We're really happy with the new site and these awards validate the effort we put in to
Bob Hartman, Director of Sales and Marketing at Knox Fertilizer, said about Consumer51, "We talked to a lot of companies to help us with our redesign. Consumer51 really stood out as a partner who immersed themselves in our business, listened to our needs and requests, then delivered a plan and executed it flawlessly. They brought new ideas to the table and challenged us as much as we challenged them. At the end of the project, we both felt good about the end product and these awards seem to validate our efforts. We look forward to the next project when that time arises."
Knox Fertilizer Company is known for their work in the turf markets and specialty plant food business. Their products are most commonly used on golf courses, athletic fields, and commercial/residential lawns and gardens.
About Knox Fertilizer: Knox Fertilizer Company is a family owned and operated fertilizer company in Knox, IN. The company was started in 1950 by Robert and Georgia Shaw, the company is still owned and operated by their third-generation heirs today. The company manufactures and blends some of the most popular brands in the market today, such as XRT®, SURFCOTE®, Shaw's®, One & Done™, Schultz®, and Garden Safe®. Knox Fertilizer is one of the major industrial employers in Starke County Indiana, employing over 120 associates in peak season. To learn more about Knox Fertilizer, please visit their website at: http://knoxfert.com/
About Consumer51: Consumer51 LLC is a privately held consumer-experience company, providing marketing and technology solutions for today's connected world. The company provides a wide range of services including web design, web development, web hosting, domain registration, email management, user experience design, mobile application development, brand identity design, inbound marketing, creative services and consulting to clients ranging from startups to Fortune 50 brands. For more information about Consumer51, visit http://www.consumer51.com.