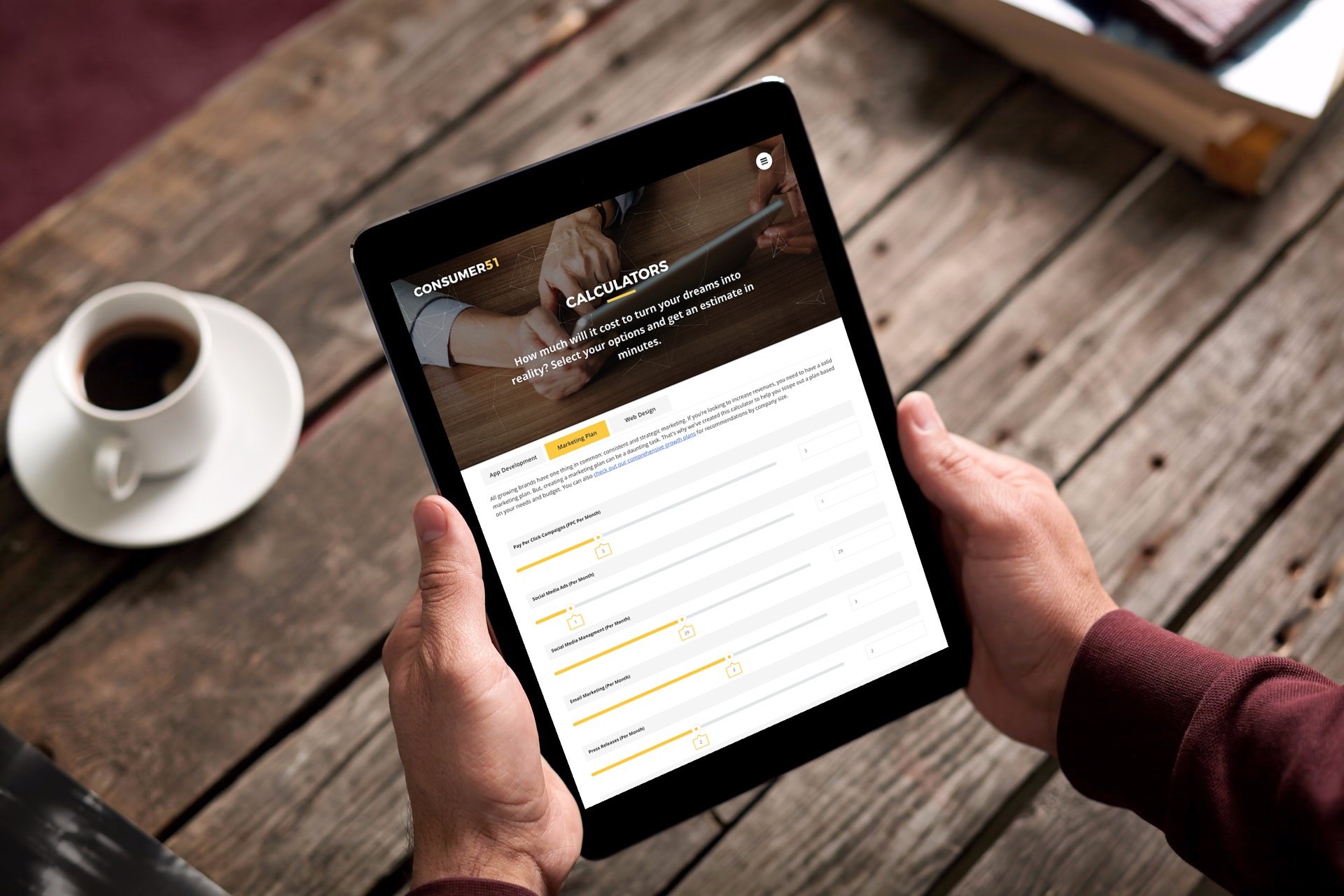 KING OF PRUSSIA, Pa. - Nov. 14, 2018 - Consumer51 launched three new online calculators today to help users estimate the cost of app development, web design, and marketing.
Ari Banerjee, Chief Executive Officer of Consumer51 explained the thinking behind the tools saying, "We recognize that getting estimates for projects and engagements that require expertise, training, and experience can be an anxiety-inducing exercise. Most people don't enjoy calling a stranger to inquire about pricing for an app or marketing plan. They also don't want to go through all their goals, revenue performance numbers, and budgets with someone they just called in order to get a price. So, to help clients get a ballpark estimate, we created tools that they can use from the comfort of their home of office. They don't have to worry about being pitched or need to talk to anyone to get an estimate."

The easy-to-use calculators help users get estimates in minutes. All they need to do is select options using the sliding scales, checkboxes, and drop-down menus to find out how much a project or ongoing engagement would cost.

Earlier in the year, Consumer51 unveiled its comprehensive growth plans that listed out all the services clients would get for a set price. "Since we launched our growth plans, we've added many more clients, said Ari Banerjee. "The growth plans with transparent pricing allow clients to select us with confidence. They know exactly what they are paying for and what results to expect. These calculators are an extension of our transparent pricing and our desire to provide value to those who visit our website."

About Consumer51: Consumer51 LLC is a privately held consumer-experience company, providing marketing and technology solutions for today's connected world. The company provides a wide range of services including web design, web development, web hosting, domain registration, email management, user experience design, mobile application development, brand identity design, inbound marketing, creative services and consulting to clients ranging from startups to Fortune 50 brands. For more information about Consumer51, visit http://www.consumer51.com.