Albuquerque, NM: Consumer51, an international consumer-experience company with business operations in Pennsylvania, New Mexico and Indiana, announced the launch of a new website for Sunwest Silver Co. of Albuquerque, NM. The all-new, mobile friendly website showcases a range of artisan-crafted turquoise pieces through videos and photos, giving users a virtual experience of the company's showroom and workshops.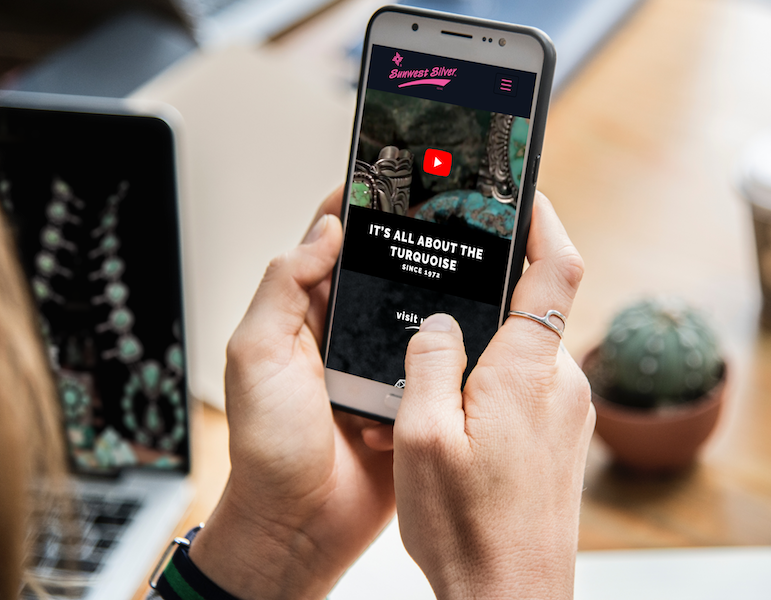 Sunwest Silver Co. is known around the world for its expertise in selecting and handcrafting turquoise jewelry. The goal of this project was to bring the showroom and craftsmanship to consumers, to help them get a feel for some of the finest turquoise jewelry in the world, in addition to displaying Sunwest's other creations, such as silver charms and one-of-a-kind handmade accessories.
Ernie Montoya, owner of Sunwest Silver Co., discussed the importance of the site, saying, "This website, with the newly produced video and product images, lets consumers get a feel for our authenticity, our process, our quality, and our products. The Consumer51 team implemented a site that truly reflects our vision and passion for jewelry design."
Ari Banerjee, CEO of Consumer51, shared his excitement for the new site, saying, "This site represents the start of an exciting phase for Sunwest Silver Co. We're working with their team to bring the company's story to more consumers. In a world of machine-made, mass-produced jewelry, this brand offers the discerning buyer the ability to pick a piece that's as unique as their personality."
The new website features product photos and a video produced by Consumer51's creative team in collaboration with Luminance Pictures, a reputed New Mexico video production company. "We wanted to capture the sheer scale of the day-to-day operations at Sunwest Silver, we were lucky because our backdrop was this authentic cultural explosion of southwestern history," said Jennifer Minnich of Consumer51. "The beautiful collections from native artisans and employee craftsmanship are what makes Sunwest Silver so special. We wanted to establish that emotional connection." The video was shot at the 5,000 sqft. showroom and warehouse in downtown Albuquerque, capturing the various moving parts of the business that work to produce the highest quality turquoise and silver jewelry.
About Sunwest Silver Co.:Sunwest Silver Co Inc has a rich history in New Mexico, dating back to 1972. It is both a wholesale and retail operation that mines turquoise, cuts it, design it, silversmiths it into jewelry, and sells it worldwide. The showroom is located at 324 Lomas Blvd. in downtown Albuquerque and the retail store Sunwest On The Plaza is located at 56-58 Lincoln Ave in Santa Fe.
About Consumer51: Consumer51 LLC is a privately held consumer-experience company, providing marketing and technology solutions for today's connected world. The company provides a wide range of services including web design, web development, web hosting, domain registration, email management, user experience design, mobile application development, brand identity design, inbound marketing, creative services and consulting to clients ranging from startups to Fortune 50 brands. For more information about Consumer51, visit http://www.consumer51.com.